Ashdod's new north,
the best new community for young families
Tidhar Group and Yuvalim Group invite you to upgrade to Ashdod's New North. Here, the incredible North Star neighborhood is the new face of the city. The perfect neighborhood for all young families that truly value quality of life alongside a warm community, innovative construction, and the very highest standard of architectural design.
Today, Ashdod is considered one of Israel's leading cities – a wonderful, vibrant beach town that is rapidly becoming the most in-demand location among young couples. Thanks to the massive transformation that has come to Ashdod's New North, the North Star neighborhood is moving to the very top of the list, combining excellent educational options with advanced infrastructure, easy accessibility, unique apartments, local commercial complexes, and a business center. Join us in celebrating Ashdod's next big real estate success story.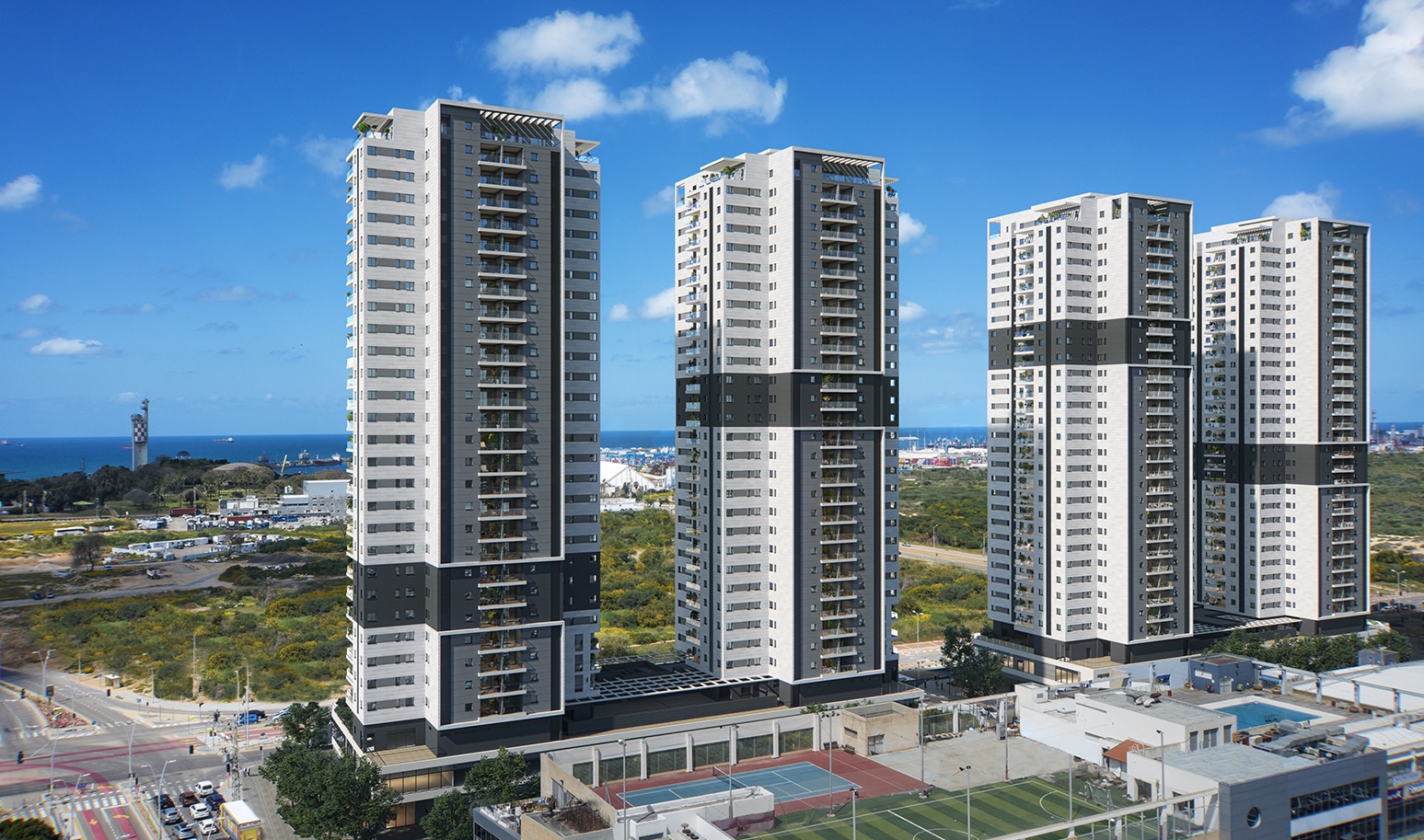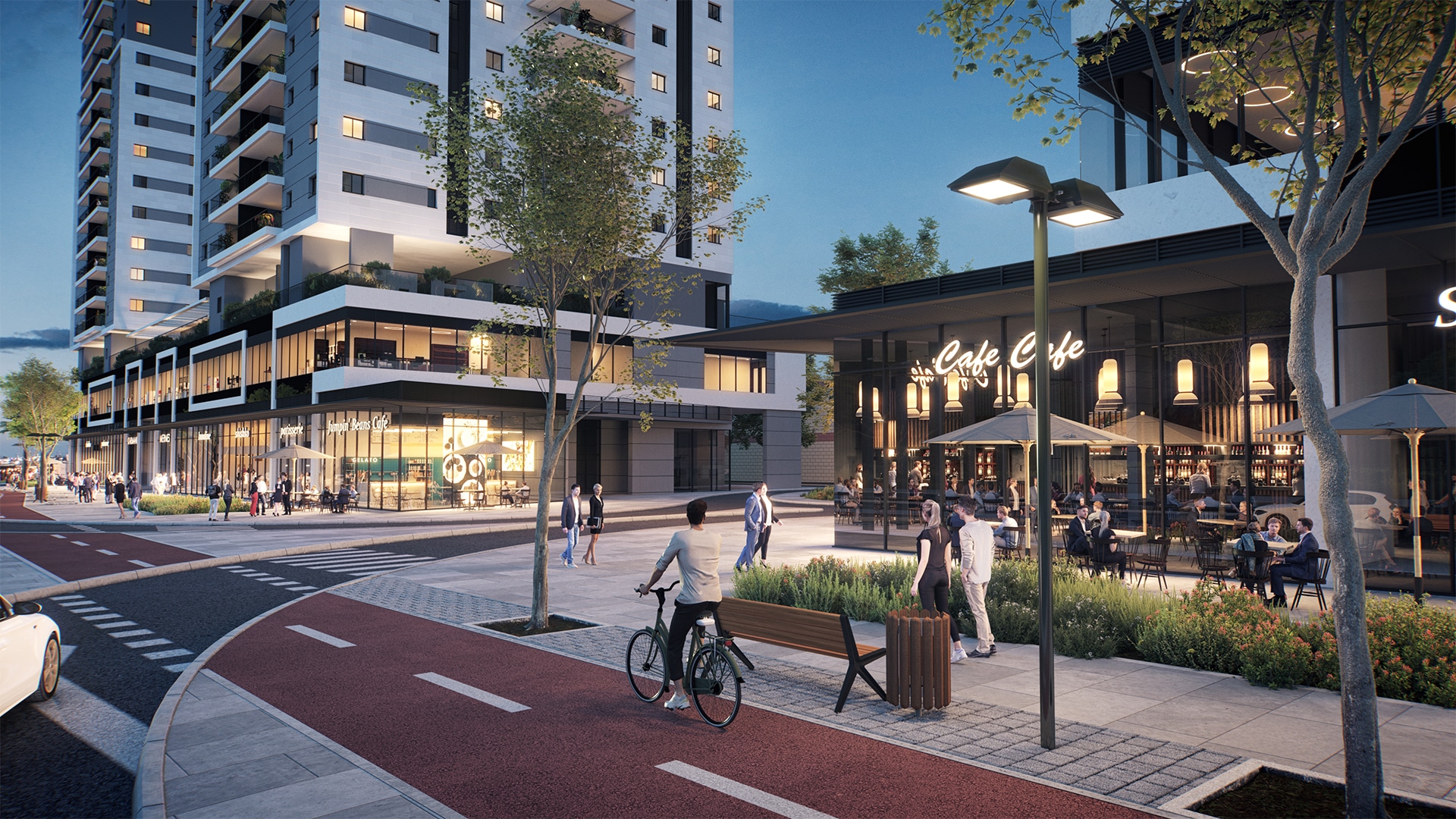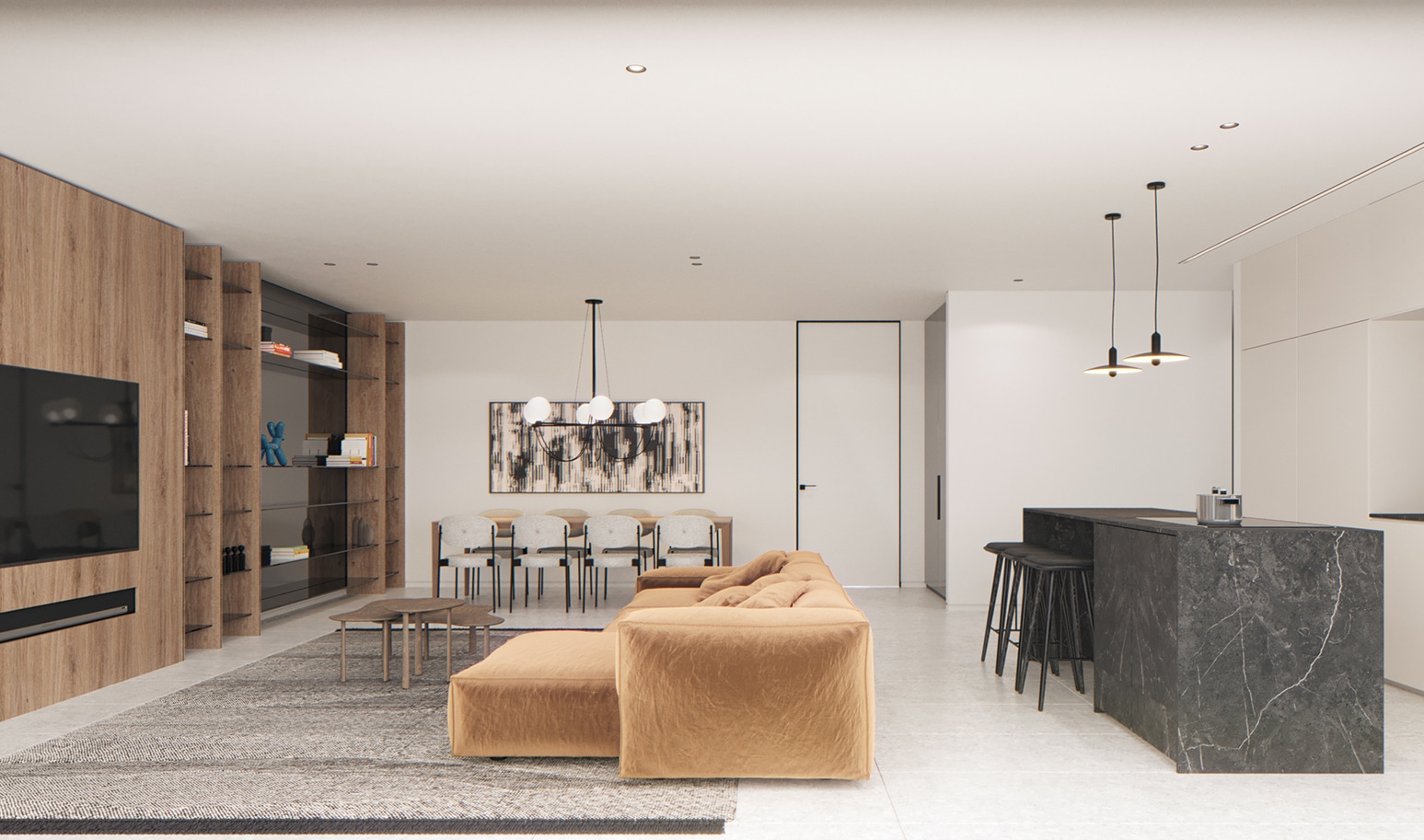 Huge variety of apartment types
For some families the living room is where everything happens, while others view the kitchen as the undoubted heart of the home. Every family has its own tastes and every family can find just the right apartment in the North Star neighborhood. Discover the wide range of 2, 3, and 5-room apartments and penthouses, all with different layouts but with the trademark quality of life you expect from Tidhar and Yuvalim.
Four modern kindergartens and five innovative daycare centers covering some 2,000 square meters. This remarkable campus will serve as the educational and social hub for the neighborhood's children, and has been expertly designed to provide an advanced, supportive learning environment.
Stores, Restaurants & Leisure
The street level will feature stores and cafes to serve local residents while blending into a vibrant urban scene.
An integral part of this mixed use project, these business levels will provide spaces for a variety of uses.
The project will include a private synagogue for the neighborhood residents, designed in the spirit of modern Jewish life.
A challenging, enriching safe space with exciting activities and attractions for children aged 0 and up. The playground enables experiential learning through play.
A fully-equipped gym reserved for residents' private use. Always wanted to get in shape but could never find the time? Now the gym is on your doorstep.
The business level includes an advanced urban co-working area for residents' convenience. Does working this close to home sound like a dream? Here it's the reality.
The first of its kind in Israel, this co-working space is specially designed for teenagers, giving them their own space for both studies and fun. The complex has been planned to offer kids a home away from home, with games and technologies tailored to their needs.
As a key part of the city's growth, the New North has been earmarked as a zone for mixed-use development, combining the Lachish River Park with its sports complex (soccer stadium, sports arena, and training fields) and construction for various residential, commercial, and business needs. A large number of urban renewal and Vacate & Build projects are also planned for the area, which will transform Ashdod's New North, and the North Star neighborhood in particular, into a model of modern living and a massive real estate success story. In order to streamline traffic flow to, within, and out of the city, two new interchanges are currently being planned. Inside the neighborhoods, an efficient public transport network is being planned that will feature smart bus stops, bicycle lanes, and walking paths.
BLK Architects
Among Israel's leading architectural firms
Barely Levitzky Kassif Architects & Town Planners (BLK) operates in Israel and internationally, and is recognized as one of the country's leading firms. BLK has a staff of more than 100 architects and is considered the second largest firm in Israel, with extensive experience designing large-scale projects, including commercial complexes, office towers and residential high-rises, residential neighborhoods, mixed-use projects, logistics centers, hi-tech and industrial facilities, recreation and tourism complexes, healthcare facilities, educational institutions, and various other public buildings.
Dana Oberson
Interior design with an international flavor
The Dana Oberson Architects firm was selected to design all of the project's public spaces and provide interior design for the apartments themselves. Founded in 2002, the firm specializes in the planning and design of private homes, luxury residences, public commercial spaces, hotels, and resorts in Israel and around the world, as well as in urban planning projects. As the daughter of internationally acclaimed designer Gideon Oberson, design has always been an integral part of Dana's daily life, and her choice to pursue this field came naturally. She is a graduate of Bezalel Academy's Department of Architecture, and her inspiration stems from the combination of meticulous contemporary design and a sumptuous Mediterranean atmosphere. Dana's eclectic, holistic approach is reflected in her often unexpected material selections, as well as intricate architectural details and hand-picked interior design items.
Tidhar and Yuvalim – Leaders in Israeli Residential Culture
Better together. As two of Israel's most advanced, influential companies join forces, their combined might has introduced new heights of quality to the North Star neighborhood – standards never before seen anywhere in the entire region. The proven experience shared by Tidhar and Yuvalim across dozens of top-tier residential and commercial projects brings considerable advantages to the neighborhood while ensuring timely delivery, uncompromising quality, and complete satisfaction.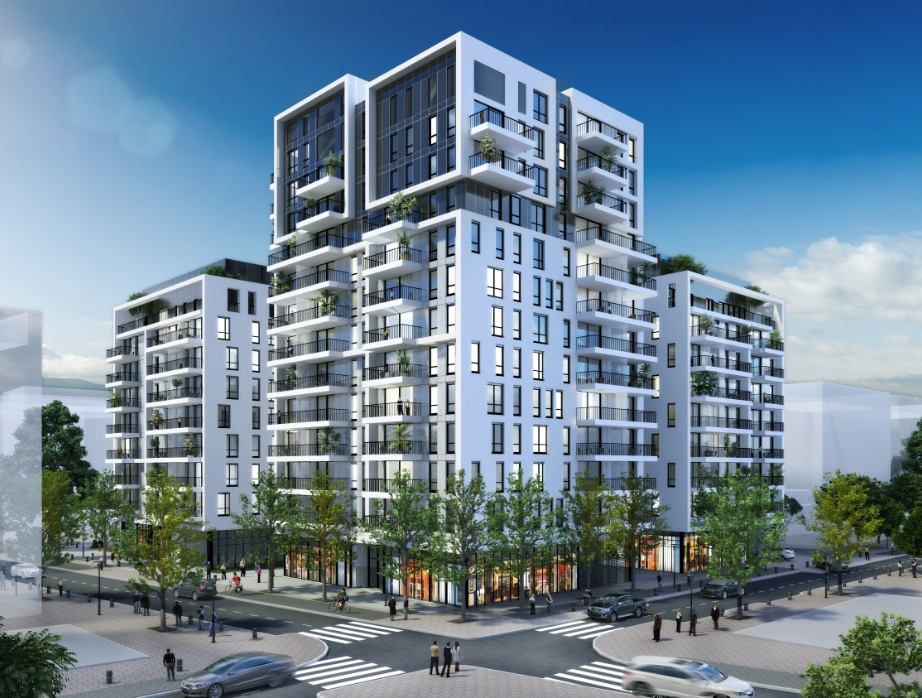 The Tidhar Group is the largest private real estate group in Israel and among only a few companies that handle the entire development and construction process from A to Z. Founded in 1993, the Group is engaged in the initiation, planning, construction, inspection, handover, servicing, and management of residential, office, and commercial projects in Israel and overseas, in addition to urban renewal and finishing work, all under one roof.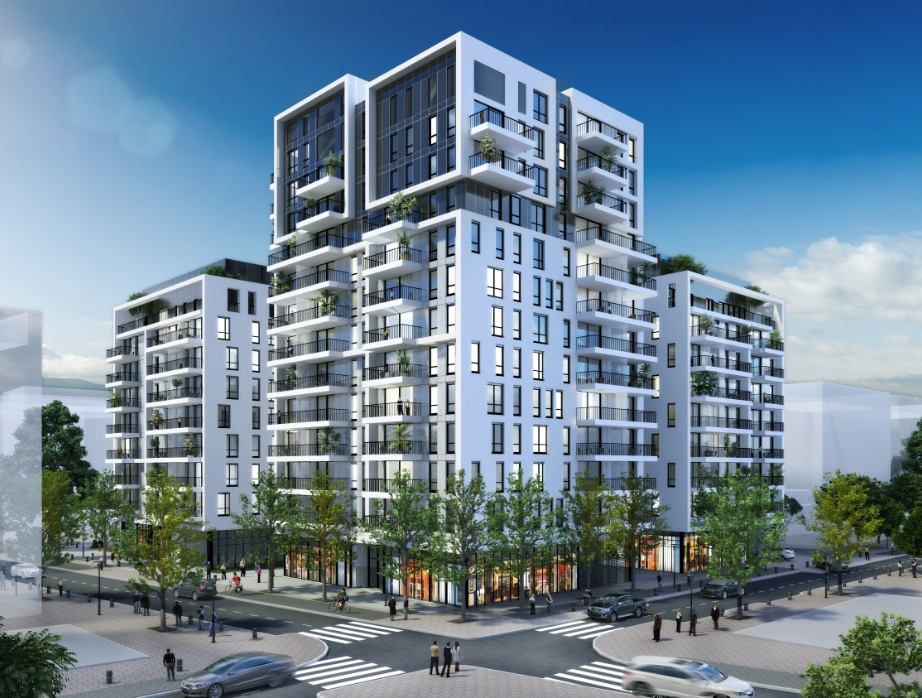 The Yuvalim Group has been active in the Israeli real estate industry since 2000, specializing in the initiation, planning, development, and construction of projects spanning all sectors: residential, urban renewal, commercial, offices, and logistics. The Group is currently engaged in initiating and building projects involving thousands of residential units and hundreds of thousands of square meters of office, commercial, and logistics space nationwide, in locations such as